DA, LGU Manolo Fortich leads turnover of P5.2-M Solar-Powered Irrigation System to Brgy. Lingion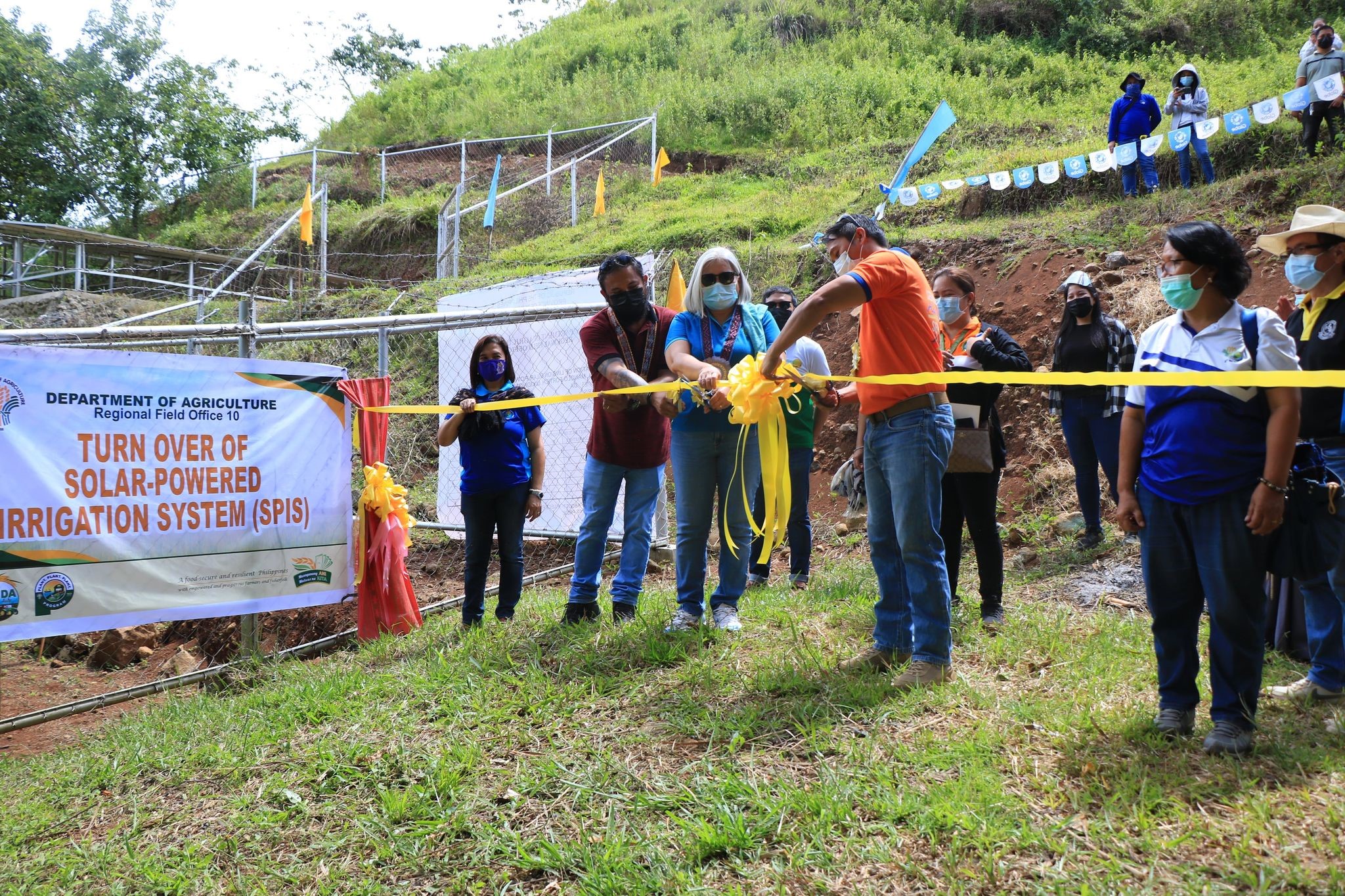 MANOLO FORTICH, Bukidnon (04 May 2021) – The agriculture department in Northern Mindanao (DA-10) and the local government of Manolo Fortich led the joint turnover ceremony of the first Solar-Powered Irrigation System (SPIS) project established in the town, to the barangay local government of Lingion.
The P5.2 million SPIS equipped with 48 pieces solar array and a 15-horsepower irrigation pump, can irrigate around 15-20 hectares and has a potential area for expansion up to 50 hectares if additional pipes are installed.
Said project is mainly intended to irrigate rainfed corn areas and other upland crops, directly benefitting 20-30 farmers near the project location at Sitio Gaboc.
"We wish to achieve the twin goals of the department: "Mataas na Ani, Mataas na Kita" for our farmers and fishers. With the ready water source, it [SPIS] will enable the farmers in the locality to plant even during drought with much more ease, resulting in increased productivity and income," DA-10 Regional Technical Director for Operations Carlota S. Madriaga said.
Out of the 22 municipalities and cities of Bukidnon province, the director also commended LGU Manolo Fortich thru its agriculture and engineering offices for their prompt response in accepting and implementing said project.
She noted that Lingion SPIS is funded from DA-10's pooled savings in 2018, following the completion of solar-powered irrigation technology projects on corn, in its research stations in Malaybalay City and Dangcagan town.
Meanwhile, Manolo Fortich Mayor Clive D. Quiño urged the beneficiaries to look after the completed project with the barangay council taking the lead.
"This is just not a simple project, as it is worth P5.2-M and is funded by the people's taxes. It can be implemented in any other municipality, but we have been chosen as the recipient for this assistance. With this big project comes great responsibility, so we should take care of this project to sustain in reaping its gains for many," Mayor Quiño said.
The local chief executive sought the provision of technical assistance to update local farmers, and push them to also engage in high-value crop production in the future.
This, as he recognizes the African Swine Fever (ASF) threat, which could have an impact on the demand for corn.
With this, he went on to pin his hope for Manolo Fortich is also becoming a vegetable basket, similar to that of the towns of Talakag and Lantapan.
"This is a big favor accorded to our barangay. We are very grateful for DA-10, LGU Manolo Fortich, especially the Municipal Agriculture's Office headed by Gema G. Cania and all others involved, who have been instrumental in the completion of the project," Elbern Onahon, Lingion barangay captain relayed.
Moving forward, he assured his interest and usual cooperation to help ensure the sustainability of the SPIS project, to attract more development projects towards realizing progress in the locality.
CAGAYAN DE ORO, Philippines (Dec. 5, 2023, 12:48 PM) – Tremors left a bridge in Bukidnon province impassable to vehicles and caused cracks on a bridge sidewalk in Cagayan de Oro in the aftermath of the strong earthquake and hundreds of aftershocks that were felt in Northern Mindanao over the weekend Aftershocks of varying intensities...